The Crew™ 2 - Deluxe Edition
Warning: Last items in stock!
Availability date:
Customer ratings and reviews
On Amazon:
DIGITAL DELUXE EDITION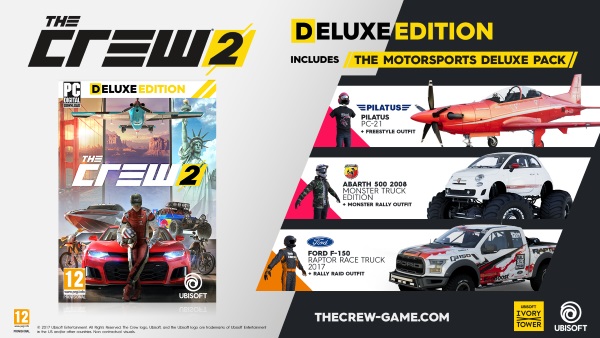 Take the challenge to new heights with the Deluxe Edition which includes The Crew® 2 Motorsports Deluxe Pack:
- Ford F-150 Raptor Race Truck 2017
- Abarth 500 2008 Monster Truck Edition
- Pilatus PC-21
- 3 outfits to customize your avatar


About This Game
The newest iteration in the revolutionary franchise, The Crew® 2 captures the thrill of the American motorsports spirit in one of the most exhilarating open worlds ever created. Welcome to Motornation, a huge, varied, action-packed, and beautiful playground built for motorsports throughout the entire US of A. Enjoy unrestrained exploration on ground, sea, and sky. From coast to coast, street and pro racers, off-road explorers, and freestylers gather and compete in all kinds of disciplines. Join them in high-octane contests and share every glorious moment with the world.

The Crew® 2 gives you the chance to showcase your skills and rise as a multi-skilled motorsports champion.

FEATURES
WELCOME TO MOTORNATION – TAKE THE CHALLENGE TO THE GROUND, SEA, AND SKY
Push boundaries and take on new experiences in iconic locations. Fly and spin through fog and clouds above the snowcapped Rocky Mountains, burn rubber in the backstreets of New York City, sweep through the Mississippi River, and explore every inch of the Grand Canyon. Driving your dream hypercar, riding some of the most iconic American bikes, and taking control of the swiftest aerobatic planes and powerboats: opportunities for fun and challenges are limitless in a fully redesigned USA.

SWITCH INSTANTLY BETWEEN VEHICLES & ENJOY A 100% SEAMLESS EXPERIENCE
The Crew® 2 is about open world freedom behind the wheel of your favorite rides. Shift from one to another with just a push of a button using the Fast Fav feature and experience the full potential of this huge and seamless open world. Cruising through L.A in your dream hypercar, switch to the swiftest aerobatic plane to rise above the skyscrapers and enjoy stunning perspectives over Hollywood, then swap it for a slick powerboat as you reach the coastline, landing smoothly on the Pacific ocean: opportunities for fun and challenges are limitless.


BE THE CHAMPION YOU WANT TO BE
Join four different motorsports families from around the country: street and pro racers, off-road experts, and freestylers. They'll hook you up with new rides, and they'll introduce you to their own unique motorsports culture and set of disciplines. Through competitions and chance encounters, find and hone your personal style, collect and customize your dream rides, show them off in your HQ, and make your mark on the entire US motorsports scene.

SHARE AND SHINE IN A CONNECTED WORLD
The world of The Crew® 2 is fueled by the need to share your personal accomplishments and unique moments with friends and others – break records and be a pioneer! Every time you achieve something, it will be saved as a new challenge for other players, while you will be encouraged to surpass the feats of others. Capture and share all of your best moments with the press of a button.
System Requirements
Data sheet

Title:
The Crew™ 2
Genre:
Action, Massively Multiplayer, Racing
Developer:
Ivory TowerPublisher:UbisoftRelease Date: 28 Jun, 2018
Publisher
UbisoftRelease Date: 28 Jun, 2018
Release Date:
28 Jun, 2018
Languages:
English, French, Italian, German, Spanish, Arabic, Dutch, Japanese, Korean, Polish, Portuguese, Brazil, Russian, Simplified Chinese, Traditional Chinese
Platform:
GamePyro, Steam
PlatformOS:
Windows





Gamemodes:
Single-player, Online Multi-Player, MMO, Online Co-op, In-App Purchases, Partial Controller Support,
GamePyro.com App FAQ
What is GamePyro?
All digital goods are delivered via the GamePyro desktop application. GamePyro and your games will be available for download at the end of the purchase.
It is for easily get your Games like Steam, Origin, UPlay, GOG.
Activating a Game with GamePyro
If you bought a Game from our Store it will appear here:
My Games

You can click at your bought Game and then choose if you have GamePyro already installed or you an download and install it.



If you have GamePyro already installed you can click at yes i have gamepyro. Then GamePyro starts and you can activate your game.

Or you open the GamePyro App and click at My Games Button and then select your bought Game and click activate.


Where i can find my Game?
If you bought a Game from our Store it will appear here:
My Games
Problem with GamePyro?